Main content starts here, tab to start navigating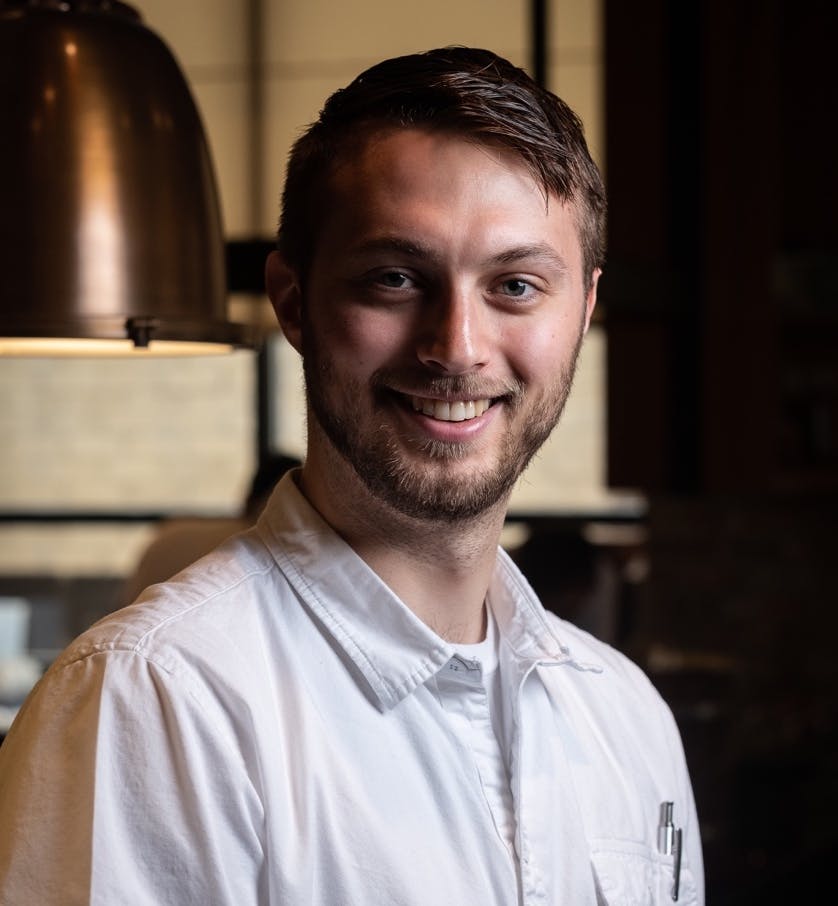 Luke Feltz
Executive Chef, Smyth + The Loyalist
Luke Feltz's culinary journey doesn't include any romantic tales of a life-long dream to be a chef. What it does include, however, are a White House internship under President Obama, positions at the National Defense University and at a think tank on nuclear security, as well as a degree in Globalization Studies and Political Science. In other words, this self-taught chef brings a totally unique set of skills to all the restaurants at which he has worked, including in his current position as Head Chef at Smyth.
Originally from Michigan, Luke grew up in a small town called Williamston, just outside of East Lansing. From a young age, he always enjoyed being in the kitchen, and with some encouragement from family and friends, started contributing to family dinners. Feltz quickly found he enjoyed cooking to the point where he began investing in cookbooks and watching old cooking shows, and eventually got a part-time job cooking at a restaurant while in high school. He continued to work in restaurants while attending Gettysburg College. It was only after he landed a full-time position working on nuclear security policy that Feltz stopped cooking professionally—and that's when his career-changing epiphany took place. "I was miserable," he says. "I realized that cooking was what had made me happy all along."
In June 2012, Luke started as a line cook at Washington, DC's Boundary Road, an independently owned restaurant focused on scratch cooking with local products. During his four years there, he also held positions as sous chef and head chef. "I did most of my autodidactic trial-and-error learning there, both culinarily and as a leader," says Feltz.
In December 2016, Feltz switched gears a bit and headed to Jose Andres' cutting-edge restaurant, minibar, as a chef de partie. Six months later, Feltz went to Copenhagen to stage at Amass, a restaurant known for its commitment to sustainability and sourcing its ingredients locally, including from its own garden and greenhouse. Three months later, Feltz returned to minibar as sous chef. In that position, he was responsible for directing dinner service at the 12-seat chef's counter and writing menus in conjunction with the head chef. He worked closely with the research and develoment team to create new dishes and oversaw the restaurant's lauded non-alcholic beverage pairing. "There is so much thought and analysis that goes into every step of the meal at minibar, from the way the experience feels as you enter to the sequence in which bites are arranged to enjoy in just the exact order," says Feltz. "Being given the encouragement to overthink, analyze, and tweak things constantly opened up a whole new world for me."
Feltz had been a fan of chef John Shields for many years prior to cooking with him in 2018 when minibar hosted Smyth and SingleThread for a Michelin-sponsored dinner series. When the opportunity presented itself for Feltz to join Shields and his team at his two Michelin-starred restaurant in Chicago, he didn't hesitate. In his new position as Head Chef, Luke is looking forward to working alongside Shields and continuing his culinary journey. "In my view, if I am not trying to change something for the better every day, then I am not doing my job properly," he says.